F8 REGULATOR
The legendary Zeagle first stage, complemented with a new high-performing flagship 2nd stage. The result, the best performing diaphragm regulator on the market today.
In partnership with Atomic Aquatics, we engineered over 20 different improvements on everything from inner mechanisms and materials to exterior controls and aesthetics. The F8 breathes better, works harder and lasts longer than any other regulator we've ever made.
The F8 1st stage has a dry-sealed spring chamber (to stop freezing at water temperatures below 40 degrees F). All delicate parts of the 1st stage including the main spring are sealed behind the clear hydrostatic diaphragm away from the effects of salt or other contaminants in the water, making it environmentally sealed. It is very low in profile, barely extending above the tank valve, and places the low pressure hoses directly out to the sides, in a pattern preferred by many divers.
New Neoflon seat:
Our conical precision high-pressure valve provides much greater reliability and service life compared to conventional designs, while improving responsiveness and performance at all breathing rates
Work of breathing at heavy* demand:
0.72 Joule/Liter
*198 (60M) depth, 750 psi inlet, 62.5 RMV (liters per minute respiratory volume)
Like all Zeagle regulators, The Flathead-7 comes factory ready for use with EAN/ NITROX to 40% O2.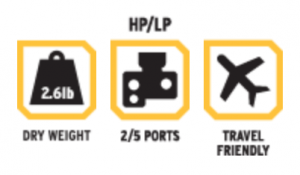 1st Stage Features:
• Balanced diaphragm design and the environmentally sealed ambient chamber ensure top performance in any condition.
• Redesigned environmental seal cap and yoke knob enhance ergonomics & design aesthetics.
• Percision machined neoflon seat harder more reliable material, keeping you diving longer.
First Stage Materials:
Body: Brass
O-rings: Nitrile
Seat: Neoflon (PCTFE)
HP Valve: Stainless Steel
2nd Stage Features:
• New inhalation diaphragm provides superior tear strength and improved response time to breathing (super soft silicone molded over a low friction disk).
• Improved exhaust valve ensures dryness and a lower exhalation effort.
• Seat-saving orifice, compliments of Atomic Aquatics, retracts when not in use – extending the life of the breathing tube seat. (#5,803,073)
• Seat comprised of soft silicone molded over a metal insert to deliver the firmness required for an airtight seal while maintaining the necessary elasticity to prevent leaking.
• Redesigned front cover and inhalation effort control knob use co-molded components that provide the necessary grip, soft touch and ease of use. Available in several color kits
• Zirconium-plated inlet tube and heat sink for superior corrosion resistance.
• Redesigned heat sink dramatically increases surface area, aiding in the heat exchange necessary to avoid freeze-up.
• Co-molded silicone mouthpiece for better fit and less jaw fatigue
Second Stage Materials:
Cover: TPU
Case: Nylon 12
Poppet Seat: 316 SS insert with silicone overmold
O-rings: Nitrile
Diaphragm: Elastomeric Polymer
Exhaust Valve: Silicone
Review:
Zeagle F8 – Scuba Lab Best Buy 2015
Zeagle's new flagship reg links to the company's heritage ("F8" is a nod to the long-running Flathead reg series), but with a dif erent look and feel oriented as much toward comfort as performance. The second stage is compact and light, with smooth edges and soft parts. The purge cover, which takes up the whole front of the reg, is soft and rubbery, the breathing adjustment knob is a full inch in diameter and ringed with soft rubber, and the Venturi lever is one of the easiest to reach and operate we've used (and is clearly marked). Where the sprocket-like heat sink connects to the second stage, fi ngers are protected from scrapes by the wide, soft hose cover. Divers noticed this attention to ergonomics, and that earned the F8 top ergonomic scores in our test. It prompted testdiver comments such as "all around comfortable to use" and "everything you would want in a reg." Our ANSTI testing showed the F8 was giving up nothing in performance for the comfort, and doing it for the lowest price here, making the Zeagle F8 our Best Buy.
– Scuba Diving Magazine